Episode 507 – Mysterious Universe
Your hosts get a little "hands on" as we join the MU Meson Archives in a recreation of the infamous Philip Experiment.
Tulpa, Group Psychokinesis, or the ideomotor effect? Whichever way you explain it, watching a card table seemingly float around a room is pretty wild.
We also explore the links between UFO sightings and Sasquatch along with the latest humanoid encounters.
Show notes, pictures, and music after the jump.
MU Meson
Mu-Meson Archives at Crn Parramatta Rd & Trafalgar St Annandale at the end of King Furniture building up the steel staircase. Phone 02 9517 2010
Get on the mailing list: meson@ihug.com.au
——————————————————
Alleged BF Hair to be Analyzed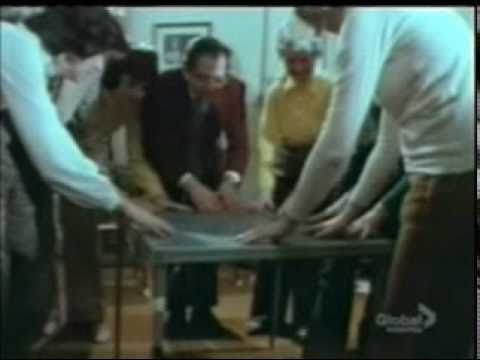 Plus Content
You can join Plus+ by clicking HERE
Aaron examines the table.
Ben and Aaron observe the experiment.
Experiment in the dark.
The bent table leg support.
Another bent table leg support.
Music
Eric Lau – Gold En via MOOVMNT
Austra – The Beat and the Pulse via brooklynvegan
Jams Da Boombox (KING BOOM)

"One For Jet Jag" (mp3)
from "Cataclysmic Boom"
(Joe Left Hand Records)
More On This Album
Nedry – Dusk Till Dawn via Welikeit.indie
Mophono – Cut Form Crunch feat. Flying Lotus via Side One: Track One